Place your first horse on top of your stand.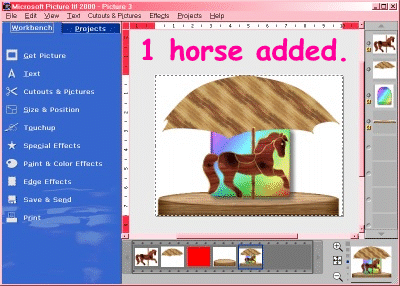 Make 2 copies of your horse.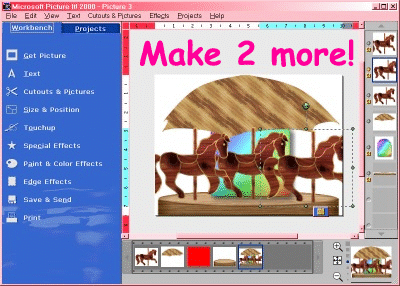 The horse on the right, will need to be flipped, go to SIE& POSITION/FLIP/MIRROED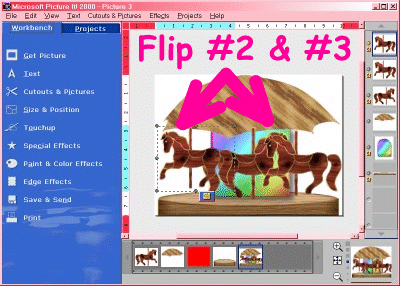 You will need to make them a little smaller than your middle one. You will have to bring something backward and some forward, so they look right. Go to SIE & POSITION/MOVE FORWARD OR BACKWARD.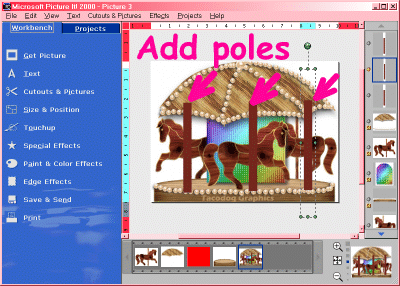 You can do this all at the same time, because you can click on the different things while still in this area, and move them. You want the 2 side horse behind your middle shape. You want your middle horse to be behind the umbrella. Make sure the top and bottom poles on your horse are under the umbrella and touch the bottom. You can pull them to make them taller or shorter. You also may want to add shadows to make everything look right. One on the middle part, at the bottom. One for the umbrella top at the bottom.
You are almost there! Now just do some designs on your umbrella and base, if you wish! Just to make it fancy looking! And at last you have your merry go round! You can now resie it and save it. Save it as a gif for a transparent background. Save it as a mix format to work on it some more!
There is a part 2 to this tut, you can make your marry go round into an animated signature tag!